5th May 2023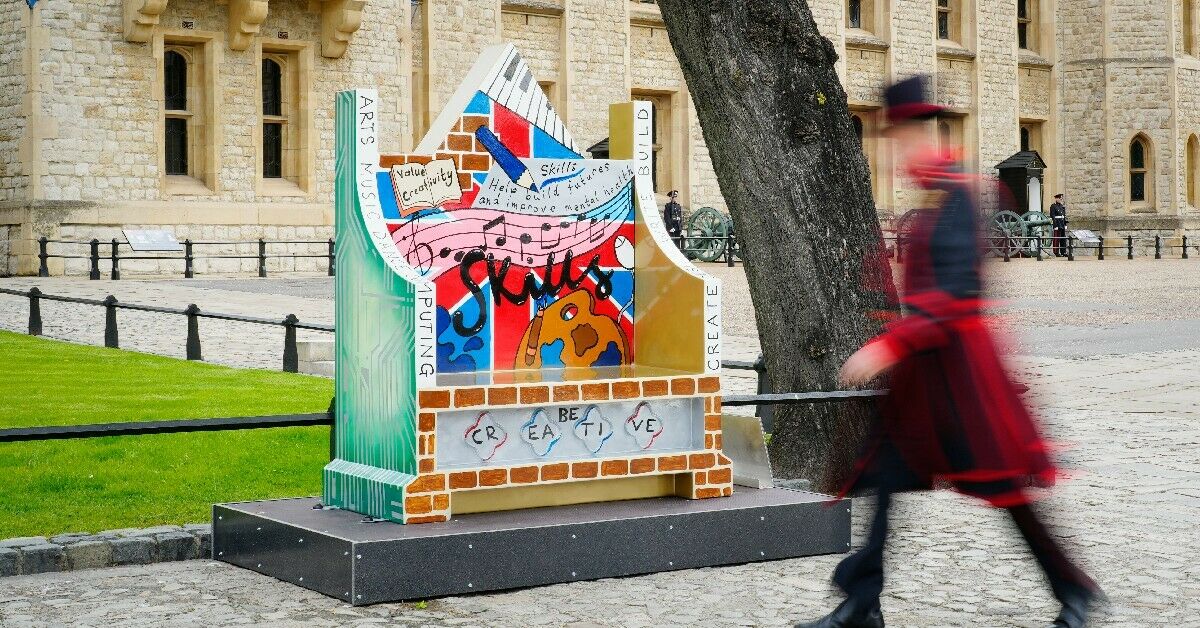 St Mary's College has been chosen as one of the final fifteen from over 1,500 entries across the UK to have their own illustrated bench created and displayed at the Tower of London during the Coronation celebrations in May. Taking inspiration from teaching resources developed by Historic Royal Palaces (HRP) – the charity that cares for the Tower of London – pupils at St Mary's College have designed their own colourful Coronation bench, around the theme of values for a new era. Children and young people from across the UK were invited to think about their hopes for the future, alongside the symbolism of the upcoming Coronation, and to create their own bench designs as a visual representation of these ideas.
The working part of students who developed the final successful design have worked with artist Sumit Sakar from global public art producers Wild in Art to refine their illustrations, before their bench was installed at the Tower of London during the Coronation celebration week.
SMC students have been invited on a VIP class trip to the Tower of London as a reward for their efforts in June, where they will see the Crown Jewels, take part in themed activities, and have the opportunity to see their bench in situ.
The fifteen winners were selected by a panel of judges at the Tower of London, from over 1,500 thoughtful and inspiring bench designs submitted from around the UK. The winning submissions were selected for their imaginative approaches, and thoughtful design. The illustrated designs helped to convey what matters to children and young people today, with themes ranging from unity and peace, to resilience and care for the environment.
Head of School, Maria Stead is understandably proud of this accomplishment, "I had every faith that we would be able to win this most prestigious of awards due to our amazing, highly innovative and creative Art & Design Department not to mention the talent of our students. I am so excited that we have been awarded a Coronation
Bench, a design focused on everything we believe in our school and in the UK. Our Coronation Bench will have a place in history whilst being seen by millions across the world. What an achievement!"
As a group of young designers, the school's themes of inspiration were:
Caring for the planet and getting out into nature
Core values of unity, peace, equality and love
Valuing skills and learning for all to support mental health and provide opportunity.
Caring for the planet is important to our young people. They discussed the importance of getting out into nature, away from daily pressures to make people feel better, as well as doing what we can to create a healthier planet for everyone.
As a school, we have undertaken personal development sessions about British Values, where we have explored issues around equality and being able to celebrate our own uniqueness.
The student artists and designers felt this was something that should be a focus for the new monarchy, creativity and expression is important to them, hence their design is focused around valuing and sharing of skills to provide opportunity and to help people's mental health.

Arts, music, creating, building and being expressive all help people manage anxiety, and so by promoting this to everyone, students felt it underlined their importance. Aspects of the design also demonstrated the value and their appreciation of key workers. How nice would it be to have people with skills, teaching others? It would build confidence, opportunity and support communities.. like that of sport.
Our school's winning design promotes different skills; learning as a skill provides opportunities and in turn, can contribute to better lives, in terms of both opportunity and wellbeing. The design demonstrates skills such as the arts, computing, the trades, music and writing.
After the coronation and time on display in London the bench will be brought back to Hull where it will be showcased in a central area of the school, where staff, students and visitors will get to experience the special piece forever.

Head of Creative Arts at St Mary's, Rachel explains the process they followed, "We set up a group of Year 7-10 students, 'Mary's Monarchs', who had expressed an interest through initial ideas generation. The students produced designs within the three themes discussed. These ideas were presented to the group to share and further refine into their final concepts.
As a teacher, what I particularly like about the design is that it captures a vast range of skills that people may be good at, from academic ones like computing and programming to manual skills like brick-laying. It demonstrates their significance and equal importance in one piece of art.
The students are most excited about travelling to London, some have never been there before and to go to the Tower of London and see their design on display is a once in a life time and unbelievable opportunity, we all feel very lucky."